Outdoor activity jobs and apprenticeships
When you work for Kingswood, you can enjoy all the fun of a Kingswood residential, every day!
We're on the lookout for inspirational and dedicated people to join our team of outdoor adventurers. With a range of seasonal and long term roles available, you can work directly with some of the 175,000 young people we welcome to our centres each year – on activities such as archery, bushcraft, caving and climbing.
We also have other jobs available from time to time including cooks, housekeeping and office based jobs. You can view our current vacancies below and click on the ads for more information.
Play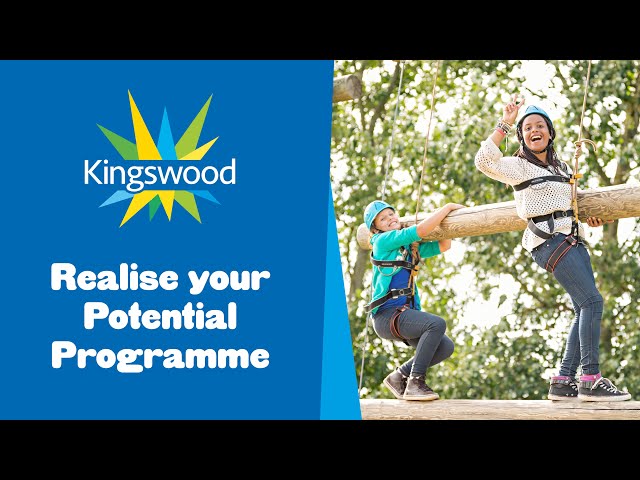 What we're looking for
We're looking for candidates who are...
- Over 18, enthusiastic and full of energy
- Flexible about their location and happy to live at one of our UK centres
- Making the decision not to follow a university route to employment
- Living in Europe full time (and have done for the last three years)
- Motivated and committed to developing their career
Government funded residential apprenticeships are available for applicants who are 18+, plus we are also offering seasonal summer camp coach positions and fixed term contracts.
To apply for our Outdoor Activity Instructor Apprenticeship programme, come along to one of our experience days.
Apply for an assessment day for our apprenticeship scheme
Outdoor Activity Instructors Apprenticeship
If you're passionate about working in the outdoors, inspiring young people to learn through having fun and helping them to become the best they can be and want the chance to work towards recognised outdoor industry qualifications, then Kingswood could be the place for you!
Have fun while working in an outdoor adventure environment
Make a positive impact to the lives of young people
Earn a Level 3 Advanced qualification and get paid 
Each year we recruit over 300 enthusiastic Outdoor Activity Instructor Apprentices to work at our educational activities centres, we train our Activity Instructors to deliver a huge range of outdoor and classroom based activities to thousands of school groups that visit our centres throughout the year.
As an Outdoor Activity Instructor Apprentice you will introduce guests to a range of adventure activities that meet the groups learning outcomes and could include abseiling, archery, climbing, fencing, go karts, quad biking, low ropes, high ropes, team building, problem solving or watersports.
Our Outdoor Activity Instructor Apprenticeship programme is the perfect starting point for you if you're considering a career in the outdoor, leisure or education industries. Not only will you gain invaluable experience that will equip you for your future career but you will also achieve an Apprenticeship in Activity Leadership including externally recognised qualifications, in house training and a Level 3 Advanced Apprenticeship.
We sponsor you to achieve these qualifications and you will also be paid a monthly apprentice training salary and be provided with subsidised accommodation and an optional food scheme.
Experience days
Join an experience day. This is your opportunity to see a Kingswood centre, get a better idea of what the apprenticeship involves and meet potential centre colleagues. Find an experience day nearest to you and contact our recruitment team to apply by calling 01709 464 931 or email careers@kingswood.co.uk
Which experience day can you attend? 
Wednesday 25th March, Colomendy, Loggerheads, Near Mold, Denbighshire, CH7 5LB

Wednesday 25th March, Grosvenor Hall, Kennington, Ashford, TN25 4AJ

Wednesday 1st April, Old School Buildings, Hill Way Road, Bembridge, Isle of Wight, PO35 5PH
In addition to our apprenticeship programme we have a variety of centre, office and field based job vacancies. Click the link below to see job descriptions for all available jobs.
View all jobs and apply
Living and working on centre
Most of our centre team not only work on centre but they live there too!
You will be an integral part of a lively and enthusiastic team who live and work together in a community atmosphere that thrives on friendship. You will meet like-minded people from all backgrounds and walks of life and make friendships that will remain with you forever. For many of our instructors it might be the first time living away from home and is a great opportunity to gain independence, learn life skills and build confidence.
Accommodation varies dependant on the centre from larger student halls type of residences to smaller houses. Accommodation is either centre-based or close by. There are staff common rooms with TV and other amenities to help you relax at the end of the day. Rooms are furnished and you will be required to share a room with colleagues. All of our centres have dining halls and should you choose to opt-in to our optional food scheme we will provide you with 3 meals a day, 7 days a week for a minimal charge.
Food scheme
All of our centres have dining halls and should you choose to opt-in to our optional food scheme we will provide you with 3 meals a day, 7 days a week for a minimal charge. These offer vegetarian options and cater for specific dietary needs.
Uniform
Kingswood will provide you with a uniform suitable for wet and dry weather.
Safety standards
As an organisation, it is important that we maintain high staff and safety standards. Upon joining us, all employees receive an employee handbook that details the do's and don'ts of life at Kingswood as well as our HR systems and procedures. All staff will also receive a formal contract to sign and performance appraisals and session observations are held throughout the year.
Close down period
Each centre has a close down period around the Christmas months and how long this is depends upon each centre and their bookings. This is a great time to head home for Christmas, re-charge your batteries and catch up with your family and friends before returning to us refreshed in January.
Robust recruitment
We have a clear recruitment, induction and training strategy. We follow safer recruitment best practice and are bench-marked against national standards.
All new staff complete safeguarding training during their induction, have a probationary review within the third month of employment and will then be observed and appraised at regular intervals throughout their period of employment.
View our safeguarding information here
Apply for a job or an apprenticeship experience day