"72% of students said that their teacher knows them better following a residential."
"53% of students said that a residential trip helped them to do better in their school work."
"We have been very well looked after, the kids have enjoyed themselves and the activities have been well organised. It has been a relatively easy trip for the staff as many things have been organised for us but we have still been with the children all the time so have been able to experience what they have been doing, and join in if we have wanted to. The food has been excellent and the rooms are great."
"84% of students said that following a residential their behaviour will be better in school."
"Kingswood is extremely organised and the children benefit a lot from the outdoor activities that they do not do at home. Our school has been for many years and have always had a positive experience."
"Our school have been visiting the Chateau for the last eight years and every time the experience for our children has been amazing. The tailored programme and range of activities is fantastic. Our children return from the Chateau buzzing – a true trip of a lifetime."
"I have been coming to Kingswood for a few years now and the centre is getting better and better. The staff are really friendly and helpful and the activities have been great for the children."
"Thank you for organising a truly enriching and enjoyable experience for our young people during our recent residential trip. The accommodation and facilities at Grosvenor Hall were of a commendably high standard and the way most of the activities were led and adapted made each day an achievement and one to celebrate."
"Fantastic for the children, it's like they have grown a foot taller in a week. Quiet and shy children have come out of themselves and confident children have developed leadership and group work skills."
"The centre is outstanding. It caters for the needs of all of our students, gives them skills for life, builds confidence, enhances leadership skills and gives them an experience that they will remember for the rest of their lives."
Vote for us for the People's Choice 2019 award
Kingswood are up for the People's Choice award at the British Youth Travel Awards 2019. We would love your support in helping us to win. Spread the word and vote for us!
Vote now
We welcome young people from schools, groups, international visitors and adults. During the holidays we also offer kids only camps, family adventures and day camps.
Play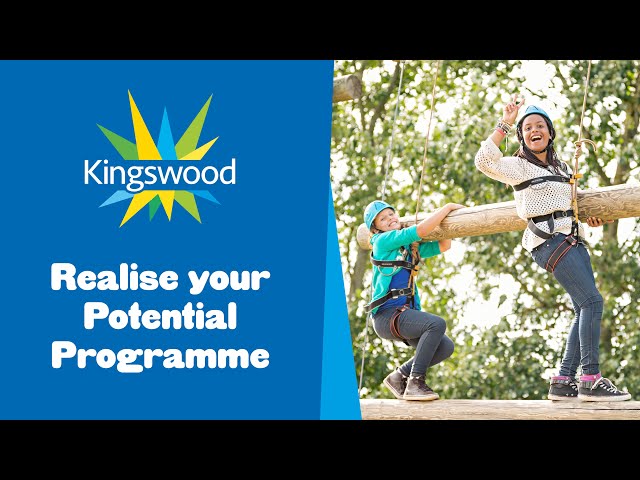 Join our team!
We're on the lookout for inspirational and dedicated people to join our team of outdoor adventurers. With a range of seasonal and long term roles available, you can work directly with some of the 165,000 young people we welcome to our centres each year – on activities such as archery, bushcraft, caving and climbing.
We also have other roles available from time to time including cooks, housekeeping and office based jobs. 
View our current vacancies
Keeping you safe at Kingswood
Kingswood creates and maintains an inspiring and adventurous environment that allows us to improve the lives of young people, whilst protecting them from harm.
Find out more about our safeguarding policy and the steps we take to ensure the wellbeing of young people below.
Safeguarding