WHY
KINGSWOOD?
An adventure to remember, a taste of independence, a rush of adrenaline, a breath of fresh air, a sense of achievement and making memories that last a lifetime. That's what we're here for.
We are raising the bar to provide the very best outdoor learning experiences. A Kingswood adventure utilises experiential education and non-academic ways of learning to provide a taste of independence, the chance to make lifelong memories and gain a sense of achievement. The experience equips pupils with skills for their future and broadens their horizons to the opportunities available to them.
Who we are
We are one of the most experienced providers of outdoor education in the UK. We were founded over 35 years ago and run over 1.2 million activity sessions each year across ten activity centres. Each year we welcome over 175,000 young people from more than 35 countries around the world.
Play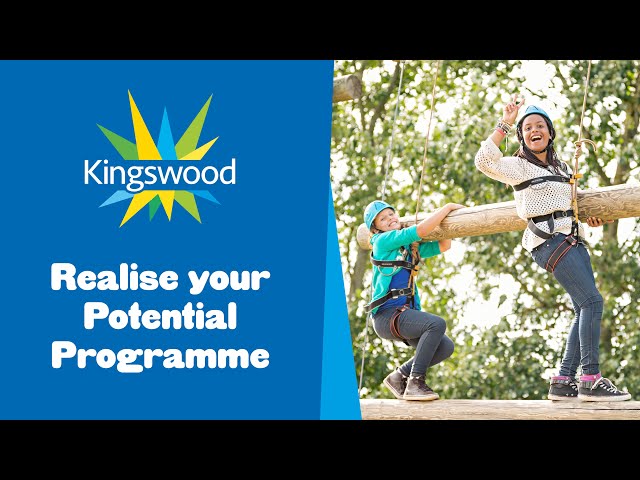 What we do
By taking pupils out of a formal classroom environment, we encourage whole classes to bond by taking part in fun and challenging activities, the shyest shine as leaders and the unmotivated become the most enthusiastic about developing a new skill.
Using the outdoors and a selection of adventurous, challenging and high-adrenaline activities, we encourage character development and support schools in delivering a broad and balanced curriculum.  
Where we do it
With nine inspiring centres across the UK, plus a Château in France, we provide unbeatable learning experiences outside the classroom. Some of our locations have a friendly campus feel, with spacious buildings sprawling a large area, while others are smaller with all facilities close by, ideal for younger groups. From Areas of Outstanding Natural Beauty, to nearby Sites of Special Scientific Interest, an array of learning environments are available at Kingswood. 
Why we do it
We believe that a brilliant residential should be seen as a fundamental part of a well-rounded education. We know that our support in helping schools create life changing experiences that have a measurable impact back in school influences the futures of thousands of young people every year.
We are absolutely committed to helping you get the most out of your learning outside the classroom experience.
We know that successful outdoor residential experiences provide challenge, build confidence, promote independence, forge life-long friendships and also increase student engagement and attainment back at school. But don't just take our word for it...
Brilliant Residentials is a five year study by Learning Away of over 60 schools into the benefits of residential school trips.
Find out more about Brilliant Residentials
How we do it
With a wide range of challenging, high-adrenaline and skill-based indoor and outdoor activity sessions, we'll keep your pupils active throughout their stay. We strive to make our experiences as impactful as possible and continually improve every aspect of our adventures and add new activity sessions. We are always looking for new ways to develop and are supported by an advisory group including experts from the Council for Learning Outside the Classroom and Learning Away amongst others.
Who is Kingswood for?
We welcome young people from primary schools, secondary schools and a variety of groups. During the holidays we also offer kids only camps and family adventures.
Primary schools
We work in partnership with you to tailor an outdoor education and adventure programme, with action-packed day time activities and an array of evening sessions.
Secondary schools
Our range of life skills and specific curriculum linked programmes are combined with your objectives to create a truly unique learning opportunity for secondary schools.
Groups
We welcome a variety of groups all year round, for day visits, great value weekend breaks and longer adventures.
International visitors
Each year over thousands young people visit Kingswood from 35 countries around the world to our immersive English language and adventure programmes.
NCS
Each year we welcome around 15,000 young people from to our centres to complete the residential element of their NCS programme.
Uniform groups
We love welcoming Scouts, Brownies, Girl Guides, Cadets, The Boys Brigade and all uniform groups to our centres, our trips are also great opportunities to earn badges.
Sports groups
We offer a wide range of sport and adventure opportunities for schools, groups and agents, from netball tournaments to sports and adventure weekends for dance groups to martial arts groups. 
Corporate groups
A choice or meeting and exhibition space with a splash of adventure is available to corporate groups. Choose Kingswood for incentive days and full events packages. Find out more here.
Awards
  AND
Accreditations
We are founding members of the British Activity Providers Association (BAPA) who regulate our industry and are accredited by other agencies such as the Adventure Activities Licensing Authority (AALA), Institute for Outdoor Learning (IOL), Adventuremark and the Council for Learning Outside the Classroom Quality Badge, plus many activity National Governing Bodies.
Awards
Our residential programmes were awarded Best Educational Product 2016 at the British Education Travel Association's British Youth Travel Awards.
We were awarded Best Residential Experience at the School Travel Awards in 2016/2017 and 2017/2018.
Peak Venture has been awarded the Gold Standard Learning Outside the Classroom Quality Badge by the Association of Heads of Outdoor Education Centres (AHOEC) - find out more
Our apprenticeship programme has been awarded Gold in the Apprenticeship Employer Awards - find out more