Download a brochure
Fill out our brochure download form to receive a digital copy of the Kingswood international visitors brochure.
Download our brochure here
Watch our new video to discover what Kingswood is all about
Each year thousands of young people visit Kingswood from over 25 countries around the world. At Kingswood, we passionately believe in the benefits of exploring new and exciting environments. We offer a range of year-round experiences for international groups and individuals to become fully immersed in English language whilst taking part in adventurous activities.
Play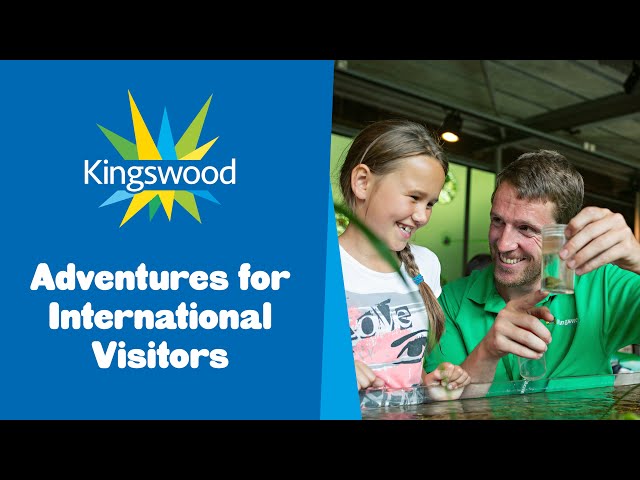 Kingswood residential centres are safe and secure destinations that create a great environment for students to express themselves. All have an authentic 'British' feel, from historic manor houses to contemporary state-of-the-art adventure complexes. Grosvenor Hall and Isle of Wight have trinity exam status, with Grosvenor Hall accredited by the British Council.
We deliver adventure and education programmes which are excellent value for money for groups and individuals. Above all, our focus is on the welfare of our young guests – their safety comes first – and the life changing experiences they gain through outdoor adventure.
See information in French
See information in Spanish
Our quality English language and adventure courses give students the opportunity to improve their language skills in a vibrant and exciting environment. Our classes are taught by qualified English language teachers and we provide a varied learning programme, combining classroom learning with exciting adventure activity sessions and excursions where students can put their new language skills into action.
We offer a variety of programmes for international students throughout the year:
Accreditations
Grosvenor Hall in Kent and the Isle of Wight centre in Bembridge have Trinity exam status.
Additionally, Grosvenor Hall is accredited by the British Council for the teaching of English in the UK, and is also an English UK member.
Kingswood Camps English Language and Adventure holidays
During the UK school holidays, some of our Kingswood centres turn into Kingswood Camps. Packed full of adrenaline fuelled and challenging activities, our Kingswood Camps' adventure holidays give 8–17 year olds the chance to have a lot of fun, gain a sense of independence and make friends with other young people from across the world.
Our camps are filled with British children as well as international visitors, which presents an ideal opportunity for international young people to improve their language skills and make new friends. Camp Coaches look after every individual, making sure they have the very best experience with us.
Find out about International camps
Accommodation
We offer a variety of accommodation across our centres, ranging from twin rooms through to larger multi-bedded rooms and our new luxury camping adventure lodges. Many of the centres offer a choice of en-suite or standard (shared bathroom) accommodation. All of our accompanying leader rooms are en-suite, with the majority being single.
We aim to split children into age-specific groups for accommodation, classes and activities. However if siblings (of the same gender) would like to share accommodation or there are specific requests for a child to share a room with a different age group then an 'overlap' between groups can be discussed on a case-by-case basis. Please note that all our rooms are same gender and it is not possible for brothers and sisters to share accommodation. We are also unable to offer single rooms to any children.
Whilst we work closely with our groups to ensure they receive the accommodation requested, we cannot always guarantee their first preference.
Locations
With nine locations in the UK, each of our centres offers a truly unique experience. All within easy reach of international airports and famous cities, visitors can choose from beachside settings, picturesque English countryside or town centre locations.
Contact us and book
If you would like to book a Kingswood programme or would like to find out more, please contact our friendly international team on +44 (0) 1603856927 or use the 'contact us' form below.
Contact us here
Prices
A Kingswood international programme is all-inclusive. Prices quoted include all language tuition, activities, excursions and full-board accommodation, see table below for what is included in each programme.
To find out our agent rates – please register as an international agent here
For individual student prices for our international summer camps – please visit the Kingswood Camps website here
Agents information
We welcome groups of international visitors throughout the year accompanied by a party leader from our network of international agents. If you are an international student or parent and would like to enrol on one of these courses, please contact us and we will introduce you to your local agent.
If you are an agent, you can find a booking form in the agents' area.
Go to agents area
Health information
For information on health advice for travellers to the UK please visit the CDC website.
Click here for information
Contact the international team
If your visit didn't meet your expectations regarding delivery and service and you would like to find out about our formal complaints procedure, see our complaints page. Additionally, if you feel you haven't had an appropriate response to a complaint, you are able to complain to English UK or British Council.
Report a complaint
What is included in the price…
ENGLISH LANGUAGE AND ADVENTURE HOLIDAYS FOR 
INTERNATIONAL VISITORS
Much more than a language school, a Kingswood experience is a chance to build confidence and learn new skills while making new friends and improving English language.
Don't just take our word for it, based on a survey of 1,954 international students who stayed at Kingswood in 2018:
92% found lessons were fun and interesting
88% felt they can speak more English
91% said the activities were interesting and fun
94% thought excursions were interesting and fun